AEE Presents Advanced Energy Leadership Award to U.S. Sen. Dean Heller, Recognizing Efforts to Support $200 Billion Advanced Energy Market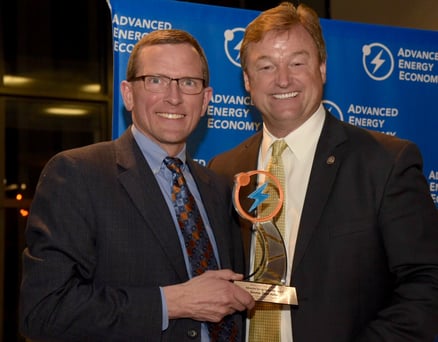 Kevin Self (left), Schneider Electric and AEE Board Member, presented the
Advanced Energy Leadership Award to Senator Dean Heller on Mar. 8.

Washington, D.C., March 9, 2017 – Last night, national business association Advanced Energy Economy (AEE) presented its Advanced Energy Leadership Award to Senator Dean Heller (R-Nev.) to recognize his support of policies that help expand the $200 billion advanced energy industry in the United States. He was presented the award at a dinner event held at the Italian Embassy kicking off the group's annual Energy Forward members conference this week.
"Senator Heller was selected by Advanced Energy Economy to receive our leadership award because of his past and continued support of market opportunities for this industry," said Kevin Self, SVP Strategy, Business Development & Government Relations, for Schneider Electric, who presented Senator Heller with the award. Self is a member of AEE's board of directors. "Advanced energy is a $200 billion industry supporting more than 3 million jobs in the U.S., and Senator Heller has helped to continue the industry's growth with smart policies that spur development and create jobs."
As a member of the Senate Finance Committee, Senator Heller worked to pass legislation two years ago to extend tax credits that provided certainty in the market for solar and wind development. Senator Heller has also championed legislation to streamline permitting of renewable energy projects on public land and to support the use of other advanced energy technologies like combined heat and power and energy storage.
"We appreciate Senator Heller's efforts to enact policies that support the growth of advanced energy for consumer benefits, economic growth, and jobs," said Graham Richard, CEO of AEE.
"I will continue my efforts to push forward an all-of-the-above energy approach that makes our domestic energy supply cleaner, more affordable, and more reliable. Nevada continues to be a leader in clean energy, and I will work with anybody, in either political party, to advance that goal. Policies that foster innovation and facilitate the development of cleaner energy and transportation technologies will create good paying American jobs while increasing our nation's global economic competitiveness," said Senator Dean Heller.
The Advanced Energy Leadership Award highlights the work of key policymakers to support the advanced energy industry in the United States. Award recipients are chosen based on their actions to back policies that increase deployment of advanced energy technologies that support job creation, increased grid reliability, and consumer savings. AEE's Advanced Energy Now 2017 Market Report, published on Tuesday, showed that the U.S. advanced energy market totaled $200 billion in 2016, equal to pharmaceutical manufacturing. Based on U.S. Department of Energy figures, the advanced energy industry also supports 3.3 million U.S. jobs, more than retail stores and double building construction.
About Advanced Energy Economy
Advanced Energy Economy is a national association of businesses that are making the energy we use secure, clean, and affordable. Advanced energy encompasses a broad range of products and services that constitute the best available technologies for meeting energy needs today and tomorrow. AEE's mission is to transform public policy to enable rapid growth of advanced energy businesses. AEE and its State and Regional Partner organizations are active in 27 states across the country, representing more than 1,000 companies and organizations in the advanced energy industry. Visit AEE online at www.aee.net.
Photo is here.
Caption: Kevin Self (left), Schneider Electric and AEE Board Member presented the Advanced Energy Leadership Award to Senator Dean Heller on Mar. 8.
Media Contact:
Monique Hanis
Sr. Director, Media Relations & Publications
Advanced Energy Economy
The business voice of advanced energy
202-391-0884 | mhanis@aee.net | www.AEE.net | @AEEnet @GreenerMonique
---