Expanding market opportunities for the rapid growth of advanced energy companies
States are far ahead of the federal government in creating markets for advanced energy through legislation, regulation, and innovative programs. AEE's State Policy Program seeks to maintain this momentum by working with our coalition of State and Regional Partners and our business members to promote advanced energy legislation in statehouses around the nation.
AEE's State Policy Program offers businesses:
Ongoing Policy Updates – AEE strives to provide its members with the most up-to-date policy news to inform their state policy engagement.
Monthly Regional Policy Calls to discuss developments in state policy, both as a general overview and to provide members with actionable intelligence and engagement opportunities. Ongoing calls are held for the Midwest (IL, IN, OH, and MI), Northeast (New England, MD, and PA), South (NC, SC, and VA), West (AZ, CA, CO, and NV), as well as Florida, and Texas.
We also provide a monthly newsletter of the top energy stories from our state and regional partner coalition.
Rapid Response Capability – leveraging the voice of the advanced energy industry to weigh in with state policy makers quickly when threats and opportunities develop;
"Eyes and Ears" on the Ground - AEE leverages our network of State and Regional Partners (currently covering 27 states) to inform our members and bring the business voice of advanced energy to state capitols across the nation.
"News You Can Use" – advance intelligence on the latest energy policy developments across the states;
In addition, don't forget that AEE's PowerSuite makes it easy to stay on top of energy legislation, PUC proceedings, and key energy policy players across the country. As an additional added value, you will receive DocketDigest and BillDigest, biweekly updates on important advanced energy developments in PUC dockets and legislation, respectively. See how >
State Engagement
The map below is an outline of AEE's state engagement: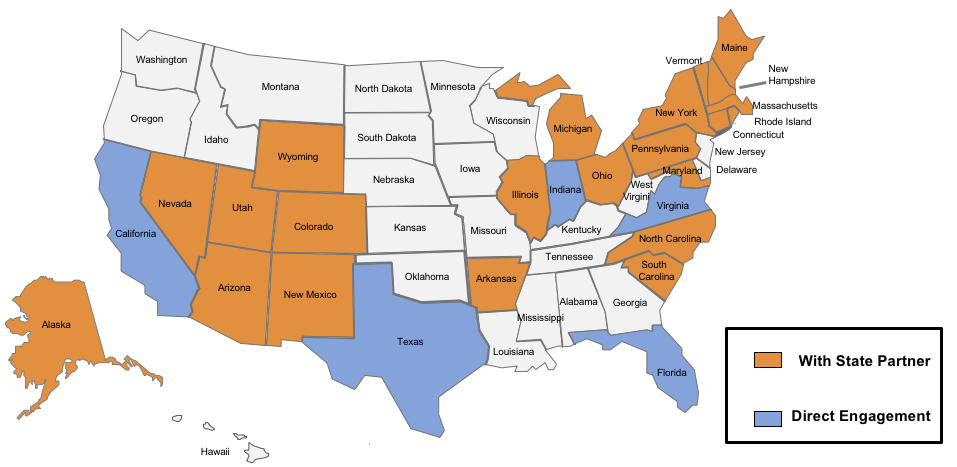 AEE is working to create a better business climate for the advanced energy sector nationwide by supporting a growing coalition of state and regional partner organizations across the country. In addition to regular deep-dive policy calls covering CA, FL, IL, OH, PA, TX, and VA, we engage with regulators and legislators through PUC proceedings and lobby days, and with businesses and business leaders through CEO forums and more.
State Policy Resource Library
Michigan's Corporate Market for Renewable Energy
A number of renewable energy projects are already operational across Michigan, and increased demand from corporate buyers will drive additional investment and job creation. However, policy barriers that prevent willing buyers from acquiring renewable resources are stifling market growth and limiting options for companies seeking opportunities to meet corporate financial and sustainability objectives. This brief discusses ways to expand opportunities for corporations to obtain additional renewable energy resources in Michigan, and examines how the elimination of market barriers can help the state continue to attract and retain companies with sustainability targets. Download the policy brief >
North Carolina's Corporate Market for Renewable Energy
A majority of the nation's largest companies have set corporate targets that involve increased utilization of renewable energy and energy efficiency. While targets vary from company to company, one thing is true across the board: Meeting them has to make economic sense. A number of renewable energy projects are already in place across North Carolina, and further growth presents a tremendous market opportunity that will drive additional investment and job creation. However, market barriers that prevent willing buyers and sellers from conducting transactions are stifling market growth in the renewables sector. This brief discusses opportunities to expand North Carolina's renewable energy market, and examines how the elimination of these market barriers can help the state continue to attract and retain companies with clean energy targets. Download the policy brief >
Expanding Missouri's Corporate Renewable Energy Market
By allowing companies in Missouri to contract directly with third-party suppliers of renewable energy, as they are able to do in many other states, and raising the state's unusually low cap on the size of installations that qualify for net metering, Missouri can unleash its renewable energy potential and drive private investment, job creation, and economic growth. Download the policy brief >
AEE's PowerSuite makes it easy to stay on top of energy legislation, PUC proceedings, and key energy policy players across the country. See how >